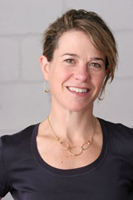 Danielle Faux, PT is a graduate of the University of Connecticut with a BS degree in Physical Therapy.
She is the owner of Formula Physical Therapy as well as a co-owner of Achieve Rehab and Fitness, co-located in the same 8,800 square foot facility.
The physical therapy practice was opened by Ms Faux approximately 8 years ago when she sold her interest in AMFIT, a physical therapy practice in Greenwich, CT.
Her prior business experience also includes developing and managing her own sports and orthopedic based physical therapy practice in Falmouth, MA.
Danielle's broad athletic experience influences her rehabilitation approach. A competitive soccer and softball player, she runs or rollerblades almost daily. She has participated in biathlons and triathlons. She maintains an active strength and core-training regimen with Pilates and free weights.